OUR COMMITMENT TO SUSTAINABILITY
As an all-natural beauty brand, NUORI has had sustainability built into its DNA from day one. Our stringent natural ingredient policy and small batch production have earned us the reputation of a true industry challenger. But to us, the journey towards true sustainability is a never-ending one - 'better' is always on the horizon. We have defined the following areas as central to our constant betterment as a company and a brand: ingredients, sourcing & production, and packaging & materials, and office policies.
Ingredients safe for you & the planet
We at NUORI are at the forefront of all-natural formulas. From day one we have been committed to delivering the most effective and clean products to our customers, while ensuring the least possible impact on our planet.
NUORI's products are made using only ingredients of natural origin. Unlike synthetic chemicals, these ingredients come from nature and will return to nature. All our formulas are free from parabens, mineral oils and petrolatums, PEGs, PPGs, MEA, DEA and TEA, phthalates, silicones, and sulfates. Further, we don't use any synthetic preservatives, stabilizers, fillers, fragrances, or colorants. We would never compromise the purity of our formulas with synthetic and potentially harmful ingredients to extend shelf life, texture, or to create a distinct color. For us, 100% natural means 100% purity.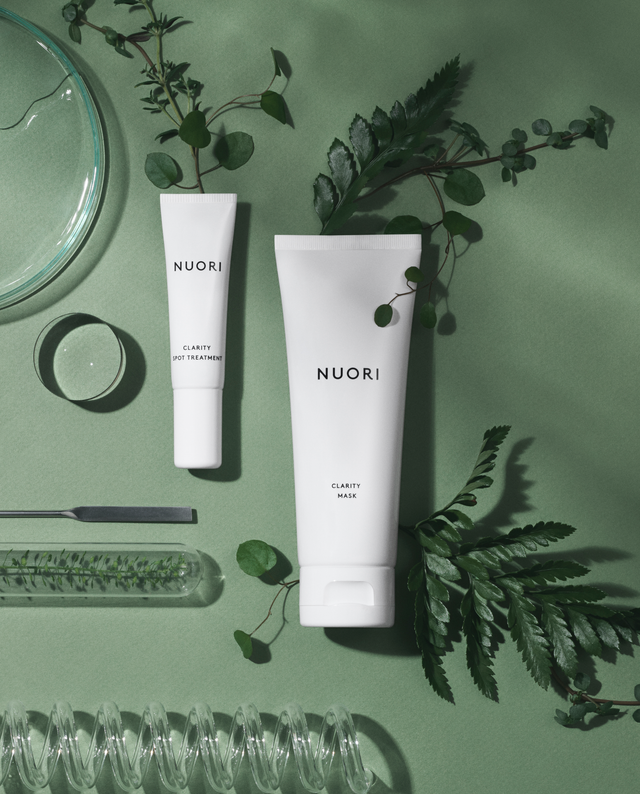 Why all natural?
The reason we are so committed to only using ingredients of natural origin is three-fold:
1
Compounds that are organically found in nature (opposed to man-made compounds), tend to have a much greater affinity to our skin. This means that the skin cells more readily receive and utilize these compounds.
2
Natural ingredients are bio-degradable, which means that they do not pollute our planet.
3
Natural ingredients are a much cleaner, naturally renewable alternative to petrochemical-derived ingredients. Many consumers aren't even aware of the fact that commonly used skincare ingredients such as mineral oil, petrolatum, paraffin wax, PEGs, MEAs, DEAs and TEAs are all derived from petroleum, which is an unrenewable resource with high toxicity concerns.
A CLOSER LOOK: Natural vs. synthetic pentylene glycol
NUORI uses a 100% natural pentylene glycol. Unlike the synthetic form of pentylene glycol, which is derived from fossil carbon sources, the natural variant used in NUORI products is developed from non-food parts of sugar cane and corn hubs. This ingredient is 100% organic, ECOCERT and COSMOS approved. In addition to effective moisturizing properties, this natural pentylene glycol improves the tactile properties of our creams and acts as natural anti-bacterial and anti-fungal ingredient.
A closer look: Ocean and reef-safe sunscreen
14,000 tons of sunscreen enter waters, and coral reefs are dying because of this. This phenomenon is call coral bleaching. The biggest culprits are the chemical sun filters oxybenzone and octinoxate. Although coral reefs cover less than 1% of the ocean floor, they support nearly 25% of all marine life. Their health is central to the functioning of aquatic ecosystems.
Responsible sourcing & production
NUORI has implemented various standards when it comes to the sourcing of our raw materials, packaging components and the manufacturing of our finished goods.
All raw materials used in NUORI's products are sourced by our two manufacturing partners, who are located in Denmark and Italy. We require them to only work with ingredient suppliers who can guarantee the best quality natural ingredients with documented efficacy and safety. However, we do not allow wild-harvested ingredients, and all our ingredient suppliers have to follow our strict guidelines for responsible harvesting and processing in accordance with EU regulations.
Both of our product manufacturing partners are ISO 22716:2007 certified. This means they follow international standard for Good Manufacturing Practices for cosmetics. Furthermore, they have been chosen because of their continuous efforts in going beyond and above what is required in terms of lean and energy efficient production methods and environmental protection.
Most international cosmetic companies operate with the "economies of scale" principle. This means that the larger the number of products a company produces in one run, the lower the unit cost. But even with the help of synthetic preservatives and stabilizers that can make products last 4,5,6, years, it is far from certain that these companies can sell the huge number of products they have produced, and a significant portion of products end up being scrapped. This is a topic that is very rarely discussed in our industry because it is generally hidden from consumers. But the truth is that no matter how "sustainable" your packaging or manufacturing is, overproduction is still extremely unsustainable from a resource waste perspective.
This is why we at NUORI developed our manufacturing cycle of small batches every 10-12 weeks. This allows to make the freshest products on the market and only produce what is in fact needed.
A CLOSER LOOK: Responsibly sourced palm oil
If an ingredient used in our products is derived from palm oil sources, we always require it to be sustainably sourced and certified according to RSPO (Roundtable on Sustainable Palm Oil). This is a double certification system that:
1. ensures that palm oil is produced sustainably called "producer/grower certification" or "Principles & Criteria certification";
2. ensures the integrity of the trade in sustainable palm oil, i.e. that palm oil sold as sustainable palm oil has indeed been produced by certified plantations.
Both systems involve third-party certification bodies. Such rigorous certification systems considerably reduce the risk for consumers to use palm oil that is not sustainable.
Conscious packaging & materials
At NUORI we work together with global experts in cosmetics packaging and raw materials to ensure the highest quality and sustainability of our products.
When it comes to packaging materials, we have a dynamic sustainability transition plan for our whole portfolio. Whenever we can see a possibility to replace an existing packaging solution with a more sustainable one, we do so as soon as our current stock of the packaging has been used up.
When developing our beauty accessories line, we also focused on working with sustainable materials like vegan leather, cellulose acetates well as fast-growing and self-seeding European ash wood instead of plastics.
A CLOSER LOOK: Carbon Negative Bioplastic Bottles
NUORIs new Enriched Hand & Body Wash and Lotion bottles are made from a carbon negative sugarcane biopolymer. Every 1 kilogram of this biopolymer produced removes 3.09 kilograms of CO2 from the air through the sugarcane plant.
The sugarcane used for these bottles is planted in degraded pastureland in Brazil, in regions with lower need for water usage in production, and that do not expand into Amazon nor Pantanal. The bottles themselves are manufactured in the UK in a plant that uses solar and wind energy. That's what we call win-win-win!
- Always choose packaging that allows us to minimize use of preservatives by protecting our formulas against air, light and bacteria
- Always identify the most sustainable packaging option available to us at the time of a new product launch
- Choose packaging produced as close to the filling facility as possible (to avoid long transportation and hereby high CO2 emissions, as transportation is the biggest contributor to the pollution).
- Where possible, avoid multiple materials that cannot be separated for recycling
- Eliminate SAN components in packaging due to their non-recyclability.
- Where possible, use recycled materials
- Where possible, use non-petrochemical materials and choose renewable source/green plastics
- For paper and cardboard, use only FSC certified materials
- All our secondary packaging items are now made of FSC certified materials
- Our Vital Body Balm and Supreme Moisture Mask primary packaging is made of 70% post-consumer recycled PP.
- Primary packaging for our Lip Treat series is made of 100% sugarcane-based bioplastics
- Primary packaging for our Mineral Defence SPF products and the bottles for our Enriched products are now made of 100% sugarcane-based bioplastics.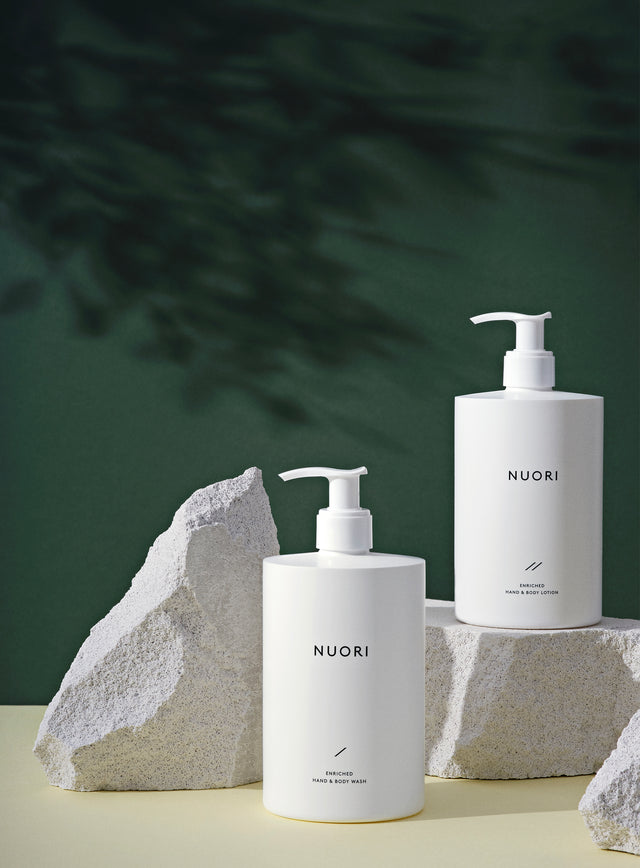 A closer look: Cellulose acetate
Our combs are made from cellulose acetate. The wood pulp used for creating the cellulose acetate material stems from common species of trees such as pine, fir and birch. The company supplying this material has a clear Code of Business Conduct, and the suppliers of the wood pulp hold sustainable forestry certifications issued by: Forest Stewardship Council (FSC and/or Program for the Endorsement of Forest Certification (PEFC). In addition, they also hold the Chain of Custody certification which can trace the path of the final goods from the forests throughout the supply chain.
Discover our Detangling Comb or Dressing Comb.
A closer look: Vegan leather
Cow leather has been shown to have the highest negative impact on our environment compared to any other fiber or textile. Therefore, our design team embarked on a long search for the perfect vegan leather for our beauty accessories. Our chosen premium vegan leather has only one-third of the environmental impact of cow leather while delivering beautiful tactility and ease of use.
Recycling guidelines
Always make sure to recycle your cosmetics packaging. Follow these quick guidelines to do it properly:
- Ensure packaging is clean and empty before discarding.
- Check if it is possible to disassemble the products' components. For example, remove pumps that contain metal coils before recycling plastic bottles.
- Recycle glass and plastic separately.
- Before disposing of the packaging, check the requirements of your local recycling authority to make sure you dispose of different materials in the right way.
- Check bottom of plastic bottles for the type of plastic it is, in case your local recycling stream allows to differentiate between plastic types.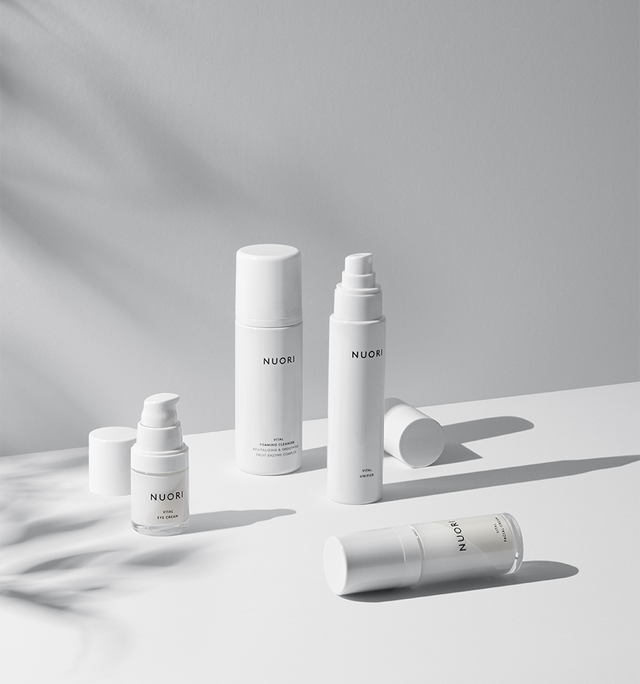 Conscious initiatives at the Nuori HQ
NUORI is headquartered in Copenhagen, one of the most sustainable and energy-efficient cities in the world. Therefore, it is only natural that our team has adopted some good habits that can hopefully inspire other companies as well:
1. 100% of NUORI employees either bike or take public transportation to and from work. (And if you're curious: the split is 60% in favor of the bike!)
2. We use only energy-saving LED lightbulbs
3. We aim to reduce printing as much as possible
4. We sort and recycle all our waste, including organic waste
5. We never buy bottled water. Tap water is king!
6. We re-use shipping cartons and filling
7. We take as many meetings online as possible to limit unnecessary travel
Let's make a change together
We are committed to continuously improving NUORI's environmental footprint and we hope that you are too.
We encourage you follow the recycling programs put in place by your local authorities, and make sure you recycle all cosmetics product packaging (and other waste) correctly. Buy consciously and limit waste by reusing, repurposing, trading and reselling. If you do not like something you've bought, give it away instead of throwing it out.
If you have any questions about our sustainability initiatives, or if you have any great suggestions for us, please email us at customerservice@nuori.com.